Bummer Box - Small
My condolences; In sympathy; There's no good gift for this; I'm so sorry for your loss; Here for you during this shitty time; Sending love and light; Wish I could make it better; Remember, all dogs go to heaven; You're not alone; You're in my thoughts; Shining some light during a time of sadness.
step 3
Include a note in your own handwriting
What's Included
Sunbeam x Kinshipped
Beeswax Candle
Pintrill
Red Heart Pin
Orgaid
Sheet Mask
Kiriko
Small Notebook - Blue
Perennial Tea x Kinshipped
TumTum Tea & Strainer
Optional Add-ons
Chocolate Covered Pretzels
$3.50
Fatty Sundays pretzel rods dipped in 70% dark chocolate, sea salt, and roasted almonds. 
Travel Body Oil Trio
$12.00
Weleda body oils: Arnica Massage, Relaxing Lavender and Regenerating Pomegranate. 
Bottle Stopper
$9.99
Viski golden heavyweight stopper with a smooth silicone sleeve.
Palo Santo Smudge Sticks
$10.00
Luna Sundara palo santo smudging sticks.
Hand Cream
$12.50
Weleda Skin Food to hydrate dry, rough skin.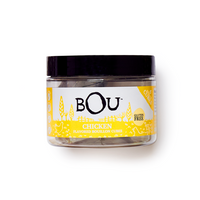 Bouillon Cubes
$4.00
Bou's quick, easy, delicious and better-for-you broth cubes 
Sorry, you can only add up to
3
extra items to this box.